Join us on an authentic, life changing yoga retreat in beautiful Macedonia
Yoga retreat in breathtaking nature
Join us on an authentic, life changing yoga retreat in beautiful Macedonia. This memorable yoga retreat includes lots of yoga, beautiful hikes in nature, boat trips, cacao- and full moon ceremonies, strolls through historic streets and delicious and traditional food.
This magical yoga retreat takes place in the village of Lagadin, which is nestled by Lake Ohrid in Macedonia. It is a mesmerising place that you will instantly fall in love with.
Accommodation

Your home at this unforgettable yoga retreat is as mentioned the village of Lagadin right by Lake Ohrid. You get to live in a true paradise on earth with the national park of Galicica in your backyard and Lake Ohrid in the front yard.
Both the house and the yoga shala is built with recycled materials in a rustic style. You will live right in the middle of nature, where you can strengthen your connection to the five elements in nature as well as going on an inner journey.
The surroundings give you the perfect opportunity to slow down and allow time to stand still for a moment, giving you a chance to reflect, connect to yourself and be in harmony with both yourself and nature.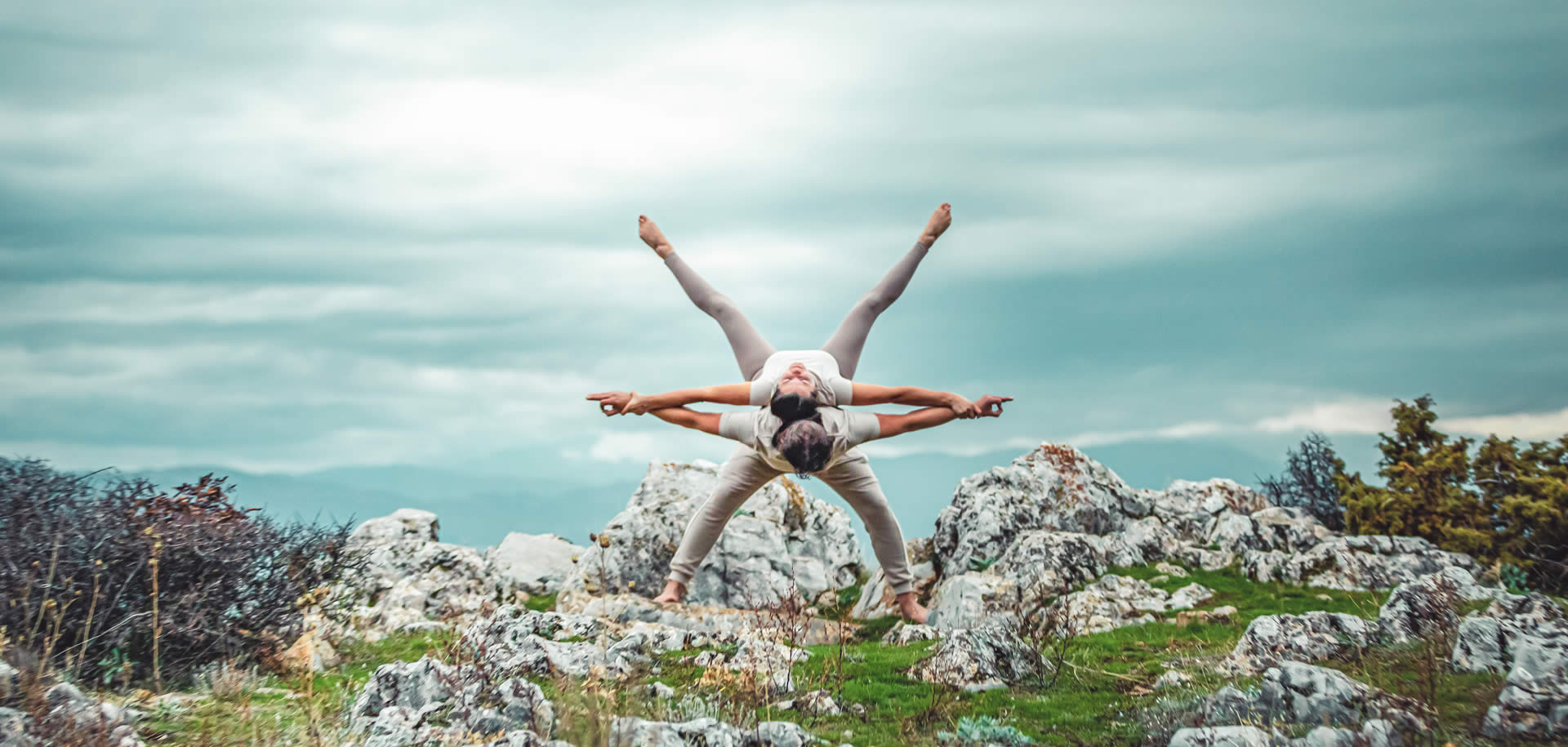 Yoga

This yoga retreat includes several styles of yoga. You will experience energizing yang yoga, grounding yin yoga, kundalini yoga and much more. The days always start with pranayama (breathing techniques), yoga and meditation. The focus is connecting body, mind and soul.
In the evening we practice grounding yin yoga and healing yoga nidra. This gives you a unique opportunity for healing and deep relaxation, while also releasing physical tensions. This is a beautiful and calming way to end the day.
Hiking

We have a whole day dedicated to hiking in the beautiful national park of Galicica. This day we will start our day practising yoga 1,000 metre above sea level with a stunning view. We will then hike through an amazing landscape overlooking Lake Ohrid. You will also get an opportunity to pick Greek tea so you have a memory to bring home from your yoga retreat.
Boat trip
Your yoga retreat also includes a boat trip on Lake Ohrid. Lake Ohrid is about four million years old, and both the lake and the village of Lagadin are on the UNESCO World Heritage list. Most of the lake's surrounding nature is unique for the area, and you have to see this special nature at least once in your life. During the boat trip we will also visit the Monastery of Saint Naum. Legend has it that just by entering the peaceful monastery you will feel healed.
Food
You will be served delicious and traditional breakfast and dinner. The food is prepared by our hosts and is made from locally grown produce in season. Our hosts have their own vegetable garden with crisp veggies.
Macedonian food is inspired by European, Turkish and Balkan cuisine and offers lots of tasty foods. A myriad of herbs and spices are used in the Macedonian kitchen, which gives the dishes a unique taste. Every meal is cooked with love, dedication and care, and almost all the food is prepared from scratch in the traditional way.
Who is the retreat for?
Our yoga retreats are for everyone. You can travel alone, with a friend, a parent or a partner. You don't need to have any previous yoga experience to join our retreats. Everyone is welcome - both completely newbie's and students with several years of experience. We will tailor the classes to your body and needs.
Together, Drazen and Brankica have more than 5,000 hours of teaching, so you can rest assured knowing you are safe with us.
What do I need to bring?
Bring appropriate footwear for hiking, comfortable clothes you can practice yoga in, swimwear, sun block and anything else you may need. We have yoga mats and yoga equipment so you don't need to bring this yourself. However, you are welcome to bring your own yoga mat, if you prefer practicing on your own mat.
6 nights
Breakfast and dinner
Unlimited water, coffee and tea
6 days of yoga, meditation and pranayama (11 classes, 75 minutes each)
Hiking
Boat trip
Cacao ceremony
Entry to the national park
Free access to the yoga shala, including yoga equipment
Not included in the price:
Flights
Travel insurance
Pocket money
Other activities not included in the price
You sign up by paying for the retreat in full. Refunds are not possible once you have signed up and paid. Therefore, we recommend you have travel insurance so you are covered in case you are unable to attend the retreat.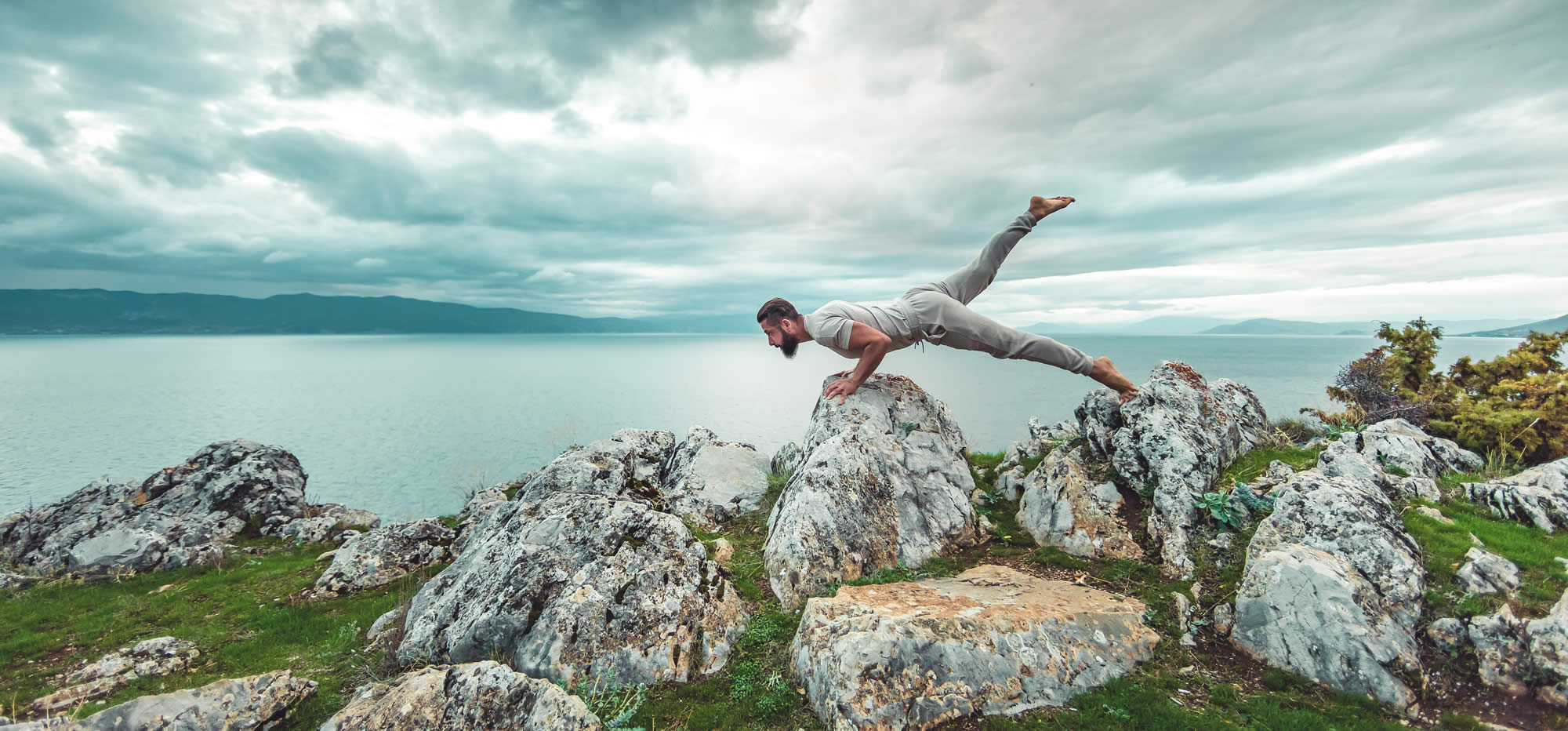 How do I get to Lagadin?
Flying to Macedonia is easy and cheap. A return ticket is about 258 DKK. The sooner you book, the cheaper the ticket. You can fly to Skopje from Billund and Copenhagen or directly to Ohrid from Malmø. Ohrid is well connected to Skopje, the capital of Macedonia, with buses leaving every second/third hour.
Official Wizz Air website | Book direct for the best prices Direct flights to Skopje from Billund and Copenhagen and from Malmø to Ohrid.
Program (subject to change):
Day 1
Arrival
08:00-10:00 Breakfast
Break
17:00-18:15 Yin yoga
18:30-21:00 Dinner
Day 2
06:00-07:30 Yoga
08:00-10:00 Breakfast
10:00-19:00 Hike
19:30-21:00 Yin yoga + cacao and full moon ceremony
Day 3
06:00-07:30 Yoga
08:00-10:00 Breakfast
11:00 Ohrid tour with guide
17:00-18:15 Yoga
18:30-21:00 Dinner
Day 4
06:00-07:30 Yoga
08:00-10:00 Breakfast
11:00 Boat trip
17:00-18:15 Yoga
18:30-21:00 Dinner
Day 5
06:00-07:30 Yoga
08:00-10:00 Breakfast
Break
17:00-18:15 Yoga
18:30-21:00 Dinner
Day 6
06:00-07:30 Yoga
08:00-10:00 Breakfast
Break
19:30-21:00 Dinner
Day 7
08:00-10:00 Breakfast
Goodbye and see you next time!