Approved by Yoga Alliance
---
Do you dream about diving deep into the world of Yin Yoga? Do you see yourself teaching and sharing this beautiful practice with others? Then our 100-hour Yin Yoga Teacher Training is for you. After completing our Yin Yoga Teacher Training you will be able to confidently teach Yin Yoga classes, and you will be able to create a safe and loving space where each and every student feels welcome, seen and heard.
What is Yin Yoga?
Yin Yoga is - unlike other styles of yoga - from the West. It was developed in the 1980s, and in recent years this beautiful practice has gained massive popularity among yogis worldwide - and with good reason. Yin Yoga is a grounding, healing, meditative style of yoga, where each pose is typically held for 3-5 minutes. By holding the poses for relatively long, you start loosening physical, mental and energetic blocks and tensions in the body.
Yin Yoga is simple. However, Yin Yoga is not easy.
Sometimes being still is the hardest of all asanas
Most of us find dynamically moving around on our yoga mats much easier than being still. Simply because we are not used to being still - especially not mentally and energetically. Yin Yoga gives you a unique opportunity to explore your inner world. Yin Yoga is an incredibly healing practice for both body, mind and soul. Whether you come to the practice of Yin Yoga when you're 80 or you find the practice when you're 20, doesn't matter. In its essence Yin Yoga is for everyBODY and every person. Regardless of your previous yoga experience, level of flexibility, age, injuries or anything else, you can practise Yin Yoga. That is the beauty of Yin Yoga. Every single person can attend the exact same class. This makes Yin Yoga unique and, if you ask us, a very beautiful practice.
Moreover, Yin Yoga integrates the meridians and the Taoist elements. This means Yin Yoga specifically targets the meridians and helps you loosen tension, stagnation and blocks in them.
Yin Yoga poses
Basic knowledge about the five Taoist elements (water, wood, fire, earth and metal)
Basic introduction to Chinese Medicine
The theory of Yin and Yang
Basic knowledge about the meridians and chi
Sequencing and themes when teaching Yin Yoga
Introduction to pranayama/breathwork and mindfulness meditations which you can use in your classes
Your role as a Yin Yoga teacher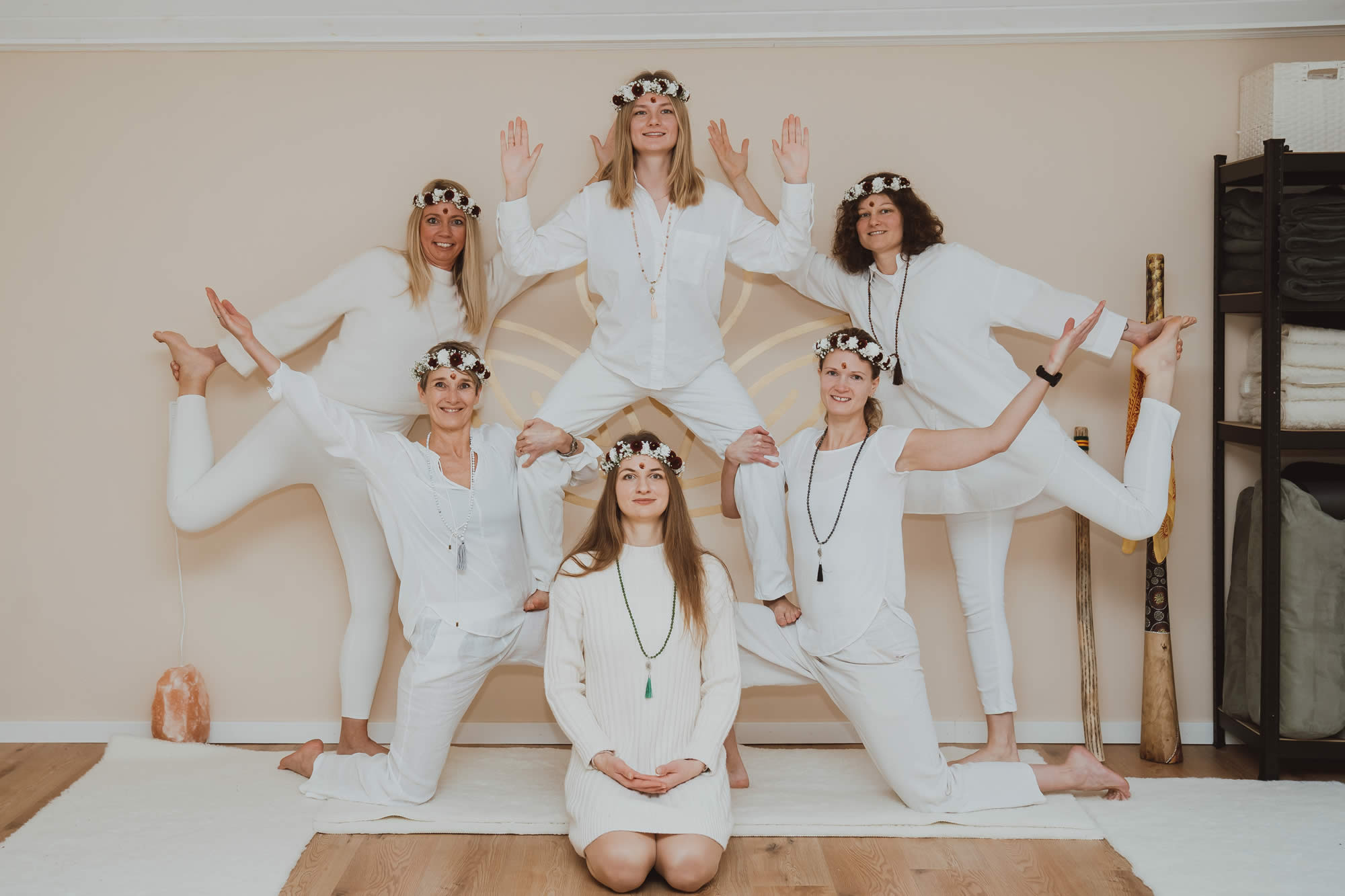 Everything you need to know 
Venue: Our shala in Kolding
Brankica Matic is the lead teacher at our 100-hour Yin Yoga Teacher Training. Her husband, Drazen Matic, will also be teaching some of the classes. Occasionally, we invite guest teachers to share their knowledge and inspire you. We look forward to diving deep into the world of yoga with you.
Yoga Alliance - Continuing Education
Our 100-hour Yin Yoga Teacher Training is approved as a Yoga Alliance Continuing Education. This means if you're already a RYT 200 or RYT 500, you can register this training as a continuing education online at Yoga Alliance.
Please note that if this is your first yoga teacher training, you won't be able to register this training at Yoga Alliance. In order to become a RYT at Yoga Alliance you need a training of at least 200 hours. However, you will still receive a certification from us. 
Who is the teacher training for?
Our 100-hour Yin Yoga Teacher Training is a continuing education and is therefore primarily for yoga teachers who have at least a 200-hour YTT. This training is for any yoga teacher looking to dive deep into the magical world of Yin Yoga.
Once you have completed our Yin Yoga Teacher Training, you won't just be a certified Yin Yoga teacher. You will also feel more balanced, stronger, and vibrant. This training is a transformation, and you will have a deep understanding of just how powerful Yin Yoga is. You will feel for yourself the magic and beauty of this practice, and just how transformative it is.
Your investment
Included in your training:
100 hours of training and education
Certification
Snacks, tea and coffee
Our dedication to both you and the training
Not included in your training:
Transportation
Lunch and other meals
Accommodation
Books
Terms and conditions:
100% participation is required for certification. If you are ill, we will send you a recording of what you have missed and assignments. Furthermore, you must pass an exam to receive your certification. Sign up is binding.
If you have any questions, you are more than welcome to reach out to us. We will happily answer any questions you may have before you decide whether or not this training is for you. We look forward to talking to you.
What former students are saying
I can highly recommend a teacher training with Art of Yoga  They are present, mindful and highly skilled and teach from the heart. You can expect an incredibly inner journey

"Brankica and Drazen are very special and incredible people and yoga teachers. They are extremely capable, and they clearly know what they are talking about. Furthermore, they are warm people who are truly interested in each and every student. It is a unique experience, which I cannot recommend enough - whether you attend one of their classes or their trainings."

"The yoga teacher training at Art of Yoga was extraordinary. I have gained so much more than I ever expected by diving into the ancient yogic philosophies. I keep gaining more and more self awareness, balance and so much more - as long as I just keep using the tools and practices that I learned Drazen and Brankica welcome you with open arms and they are ready to support and guide you - both during and after the training. I highly recommend doing a training with them

"The yoga teacher training with Art of yoga is the best gift I have ever given myself. I was already on a personal development journey when I signed up for the training, however, the training gave me new dreams and insights. A lot of us know yoga as physical poses and say 'I practise yoga' - I did too. However, yoga is so much more than some poses. My training with Art of Yoga introduced me to the ancient yogic philosophies which contain so much wisdom and teach us how to live a life with acceptance, love and harmony. Brankica and Drazen create a safe, loving, mindful and professional environment for learning, which I have appreciated very much. I am deeply grateful to have studied with these two. Thank you so much. Thank you for encouraging and supporting me - I now have the courage to start my own business and live my dreams. Love, Annamette."

"Our life path has already been decided for us However, oftentimes we don't see the signs, because we aren't listening to our heart. Instead we are racing with a hundred miles per hour in the search for recognition and happiness. I signed up for my training with Art of Yoga to gain skills as a yoga teacher and deepen my own practice, but I got so much more out of the training. I am so grateful I signed up for this training. Brankica and Drazen are both disciplined in their teaching of both the physical practice and the philosophical part. This means you don't just end up being able to do a few poses to perfection - you are also able to give students hands-on adjustments. Everything I learned during the training I have incorporated into my own practice, and it is the DNA of my yoga studio, Urban Yoga in Esbjerg. Signing up for the training with Art of Yoga was the first step to listening more to my heart. Since then I have stepped more and more into my light. Thank you Brankica and Drazen for making me stop for a moment and take a different route. "