200-hour Kundalini Yoga Teacher Training
Awaken your potential, ignite your purpose.
---
Do you dream of diving deep into the world of kundalini yoga? Kundalini is often considered a more elusive style of yoga, surrounded by a veil of mystic. While kundalini yoga certainly is a powerful practice that can transform the practitioner completely, it is not nearly as mystical as you may think. Kundalini yoga is a fascinating and deep practice that we know you will fall in love with. If you allow it, kundalini yoga will transform you completely.
Experience the profound with our Kundalini Yoga Teacher Training – where ancient wisdom meets modern transformation. Join us on a journey of self-discovery and share the light within.
Elevate your practice, empower your spirit. Unleash the transformative energy within. Join our Kundalini Yoga Teacher Training and embrace a journey of self-discovery, healing, and teaching mastery.
Location: Ulica 5, 20270 Vela Luka, Kroatien
Date:
13. july 2024-28. july 2024
Price: Early bird 1.099 EUR,  Normal 1.350 EUR
Step into the warm embrace of our Teacher Training Course (TTC) – a heart-centered journey that includes expert guidance, transformative teachings, and all essential materials. As you consider joining us, please know that the TTC investment warmly opens the door to profound growth but does not cover accommodation and meals. It is our heartfelt wish that you create a nurturing haven for yourself during this time, indulging in local delights and finding comfort. Should you seek a welcoming hand in this endeavor, please reach out – your radiant journey is our joy to support and celebrate.
Early bird ends on 31.3 2024
The price includes:
Manual and workbook

Breathwork

Balancing of the chakras

Closing ceremony

Yoga Alliance Certificate

Experienced, passionate teachers
The price doesn't include:
Accommodation or meals

Airfare

Transportation

Pocket money

Activities not listed above
Secure your spot in the TTC by booking and paying through our website. The remaining amount can be settled on arrival day, preferably in cash. Thank you for choosing us for your journey into yoga teaching.
Double/triple share room: -2.600 EUR, Regular price -2.899 EUR
Singe room,-2.899 EUR, Regular price -3.200 EUR
The price includes:
16 days accommodation
3 daily vegetarian meals ( On Saturdays only breakfast incl.)
Manual and workbook
Breathwork Balancing of the chakras
Closing ceremony
Yoga Alliance Certificate
Experienced, passionate teachers

The price doesn't include:
Airfare Transportation
Pocket money
Korcula, a Jewel in the Adriatic Crown
Nestled in the Adriatic Sea, Korcula boasts a rich history dating back to ancient times. Its strategic location made it a desirable outpost for various civilizations, leaving an indelible mark on its cultural tapestry.
Venetian Elegance Amidst Croatian Beauty
Once under Venetian rule, Korcula's architectural charm reflects a harmonious blend of Venetian and Croatian influences. The medieval Old Town, with its labyrinthine streets and preserved structures, transports visitors to a bygone era.
Step into history's embrace in Korcula, where every cobblestone whispers tales of the past. Lose yourself in the Venetian elegance of the Old Town – a timeless masterpiece along the Croatian coast."
Vela Luka's Ancient Harbor
Vela Luka, Korcula's western gem, stands proudly with roots reaching back to Roman times. Its natural harbor has long been a haven for seafarers and traders, shaping the town's maritime identity.
Vela Luka, where ancient shores meet modern allure. Explore the echoes of the past while basking in the vibrant energy of today – a coastal retreat where history and the contemporary dance in harmony.
Modern Echoes in Ancient Stones
Despite its ancient origins, Vela Luka exudes a modern charm. With archaeological finds revealing prehistoric settlements, the town has seamlessly fused its historical depth with contemporary living.
Arrival via Split
The nearest airport is in Split. There are direct flights from meny europe airports from various airports with Lufthansa, Air Croatia, Eurowings and easyjet.
There is a bus at the airport that goes directly to the large ferry port in Split (journey time approx. 30 minutes). He's waiting right in front of the airport building. Tickets can be purchased directly on the bus (approx. 7 euros per person/trip). The euro was introduced in Croatia in 2023.
If you want to come by train and bus, you usually go via Munich and Zagreb. For example, there is a Euro-Night with sleeping cars from Munich to Zagreb (sometimes the train is not shown on the DB website, then look on the ÖBB website). And from Zagreb you could then take the bus in the morning (e.g. Flixbus in 4.5 hours) to Split. This bus/train combination would take 19.5 hours from Berlin and 15 hours from Munich.
In addition, Austrian Railways offers night trains Berlin-Vienna or Split-Vienna and RegioJet offers night trains Prague-Zagreb and Prague-Split.
From the port in Split the ferry or catamaran then takes you to Vela Luka (journey time approx. 2.5 hours) - depending on the ship (costs approx. 7 euros) per person/single crossing). All ship timetables - including those for the catamaran - can be downloaded below and on the Jadrolinija website .
An alternative can also be a catamaran connection from Split to Korcula town (approx. 2.5 hours). Then you have to take the bus to Vela Luka (approx. 50 minutes).
You can easily walk to the yoga house from the ferry pier/bus station. During the TTC we pick up all participants at the ferry dock in Vela Luka.
From royalty and nobility to the masses
Kundalini yoga has gained popularity in the last few years, however, this practice has been around for a very long time. This ancient yoga practice focuses on pranayama (breath) and asana (the physical posture) as well as meditation, mudras and chanting. Kundalini was brought to the western world in the late 60s by Yogi Bhajan. The word kundalini derives from the Sanskrit word 'kundal' which translates to 'coiled energy'.
Although Yogi Bhajan is most often associated with kundalini yoga in the western world, kundalini is an ancient tantra yoga practice. And that's what we will be focusing on in this 200-hour kundalini yoga teacher training. The teachings of kundalini were actually kept secret for a very long time, and kundalini was only taught to royalty and nobility for thousands of years.
Explore the depth of your cosmic consciousness with kundalini yoga
Let's dive a little bit deeper into tantra kundalini - just so you can get a little taste of what we will uncover in this training. According to tantra, the entire universe is a manifestation of pure consciousness. This pure consciousness is divided into two aspects, poles or opposites, and one cannot exist without the other. One is Shiva and the other is Shakti. If you are familiar with the theory of Yin and Yang you will notice that there are some similarities between the two.
Shiva is the masculine energy while shakti is the feminine energy. Shiva has the power to be, but does not have the power to change or become. It's static. Shakti, on the other hand, is creative, dynamic, energetic. Shakti is the Great Mother from which all is born.
In tantra it is believed that every single human being is a miniature universe. This essentially means that everything that is found in the universe or the cosmos can be found within us. Therefore the principles that apply to the universe, also apply to us according to the philosophy of tantra. This means human beings have both Shiva and Shakti in them. In humans Shakti is called kundalini.
You may have heard that the kundalini energy is resting at the base of the spinal cord. In tantra kundalini yoga we are trying to awaken this cosmic energy and make it ascend through the chakras. Once the kundalini has risen all the way to above the crown of the head (the sahasrara chakra), the energy will unite with shiva.
You may have seen the kundalini energy illustrated as a resting serpent that is curled three and a half times at the base of the spinal cord.
A Kundalini Teacher Training founded in philosophy
Our 200-hour kundalini teacher training is solidly founded in tantra kundalini, and we will explore the philosophy in depth. We will dive deep into Shiva and Shakti, kundalini kriyas, meditation, mudras and much more.
You will learn how you can awaken the kundalini energy, and you will learn how to cleanse your body, mind and energy through the practice of kundalini yoga. We will also explore yoga nidra (yogic sleep), which will help you balance your energy, find deep relaxation and work with your mind on a conscious, subconscious and unconscious level.
The history of kundalini yoga
Tantra kundalini philosophy
Kundalini kriyas
Mudras
Meditation
Anatomy and physiology lab
Pranayama
Chakras
Yoga Nidra
Ayurveda
Structure of a kundalini yoga class
Verbal and hands-on adjustments
Practice teaching
Teaching skills such as voice, communication and holding space
Yoga ethics
Certified RYT200:
Your 200-hour Kundalini YTT will end with both an oral and written exam, where you will teach in front of your fellow students. After completing your 200-hour Kundalini YTT with Art of Yoga you can be registered as a RYT200 at Yoga Alliance. This means you can use your certificate worldwide.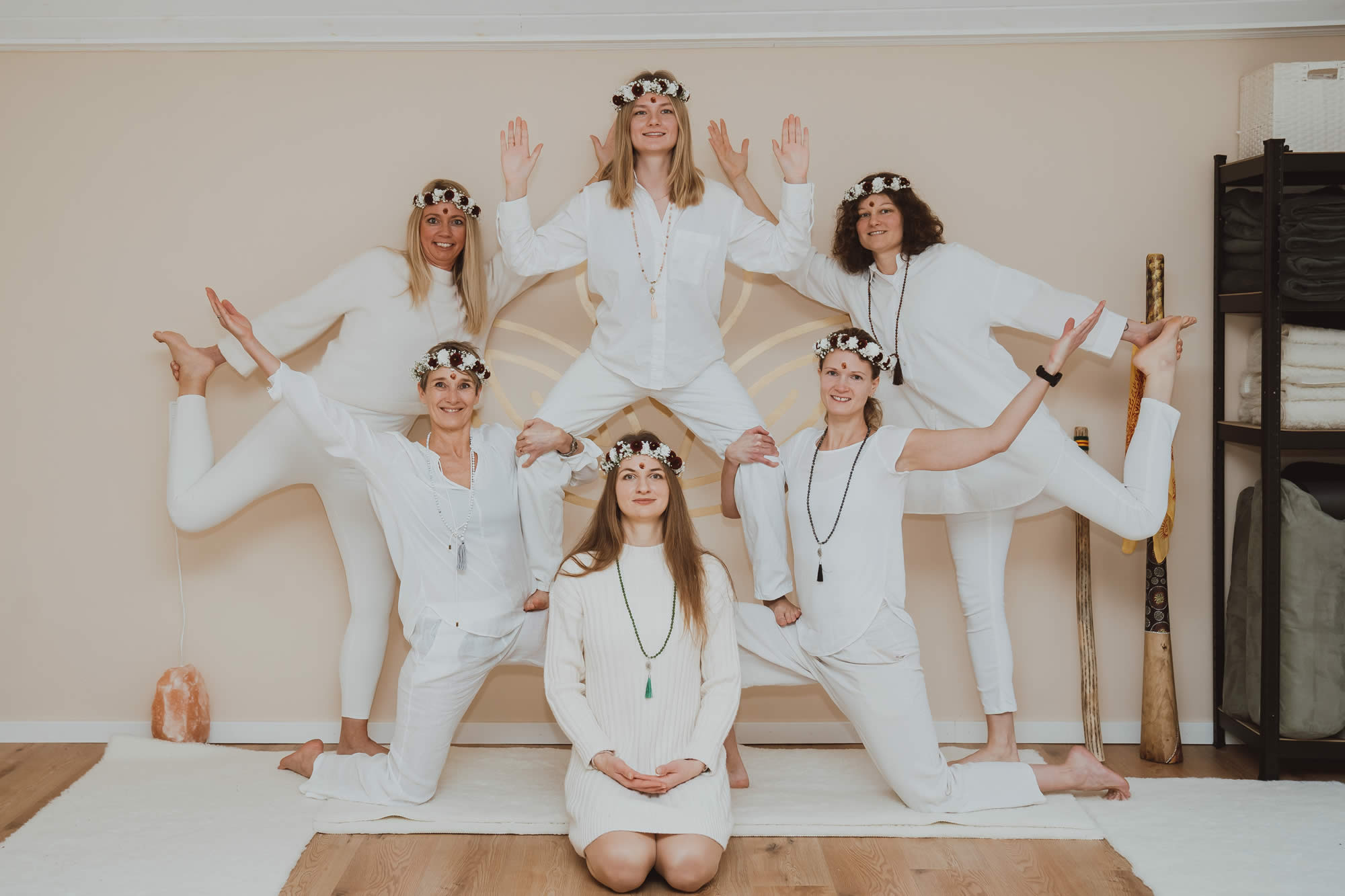 Conditions
You sign up and pay through our website. Once the deposit has been received, your spot is secured. Sign up is binding.
Deposits are non-refundable.  All payments collected for training fees are non-refundable within 90 days of the start date of the training.
Deposit
EUR 670 (secures your spot). Non-refundable.
200h. Kundalini YTT. 2024
Sample daily schedule:

07:00-09:00 Sadhana
09:00-10:00 breakfast
10:00-12:00 yoga philosophy
12:00-13:30 Anatomy, Physiology
13:30-15:00 lunch break
15:00-17:00 teaching strategies and practice
17:30-19:00 meditation
19:00- 20:30 dinner/ Free
Upcoming Teacher Trainings

Start: 13.07.2024- 28.07.2024

What former students are saying
I can highly recommend a teacher training with Art of Yoga  They are present, mindful and highly skilled and teach from the heart. You can expect an incredibly inner journey

"Brankica and Drazen are very special and incredible people and yoga teachers. They are extremely capable, and they clearly know what they are talking about. Furthermore, they are warm people who are truly interested in each and every student. It is a unique experience, which I cannot recommend enough - whether you attend one of their classes or their trainings."

"The yoga teacher training at Art of Yoga was extraordinary. I have gained so much more than I ever expected by diving into the ancient yogic philosophies. I keep gaining more and more self awareness, balance and so much more - as long as I just keep using the tools and practices that I learned Drazen and Brankica welcome you with open arms and they are ready to support and guide you - both during and after the training. I highly recommend doing a training with them

"The yoga teacher training with Art of yoga is the best gift I have ever given myself. I was already on a personal development journey when I signed up for the training, however, the training gave me new dreams and insights. A lot of us know yoga as physical poses and say 'I practise yoga' - I did too. However, yoga is so much more than some poses. My training with Art of Yoga introduced me to the ancient yogic philosophies which contain so much wisdom and teach us how to live a life with acceptance, love and harmony. Brankica and Drazen create a safe, loving, mindful and professional environment for learning, which I have appreciated very much. I am deeply grateful to have studied with these two. Thank you so much. Thank you for encouraging and supporting me - I now have the courage to start my own business and live my dreams. Love, Annamette."

"Our life path has already been decided for us However, oftentimes we don't see the signs, because we aren't listening to our heart. Instead we are racing with a hundred miles per hour in the search for recognition and happiness. I signed up for my training with Art of Yoga to gain skills as a yoga teacher and deepen my own practice, but I got so much more out of the training. I am so grateful I signed up for this training. Brankica and Drazen are both disciplined in their teaching of both the physical practice and the philosophical part. This means you don't just end up being able to do a few poses to perfection - you are also able to give students hands-on adjustments. Everything I learned during the training I have incorporated into my own practice, and it is the DNA of my yoga studio, Urban Yoga in Esbjerg. Signing up for the training with Art of Yoga was the first step to listening more to my heart. Since then I have stepped more and more into my light. Thank you Brankica and Drazen for making me stop for a moment and take a different route. "